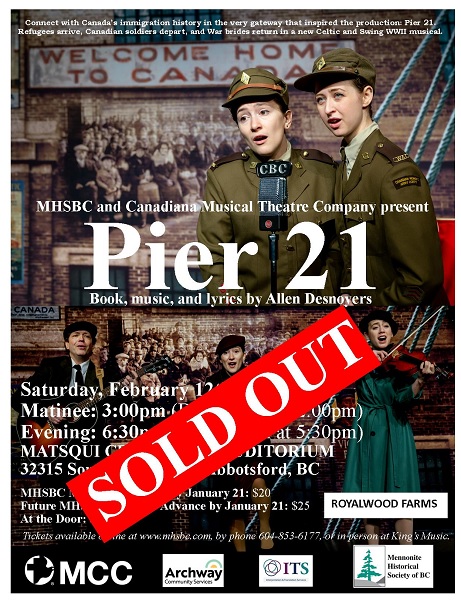 Refugees arrive, Canadian soldiers depart, and War brides return in a new Celtic and Swing WWII musical.

Connect with Canada's immigration history in the very gateway that inspired the production Pier 21: The Musical. Refugees and immigrants flee Europe as war breaks out in 1939. After half a million soldiers depart from Pier 21 to fight in the Second World War, War Brides and a new generation of immigrants arrive to take their first steps on Canadian soil through the Pier. Site-specific theatre at its best, this show is a Celtic and Swing flavoured musical packed with powerful vignettes and characters.

Did your family enter Canada through Pier 21? Share your story on one of our luggage tags which will be part of an exhibit at the Mennonite Heritage Museum.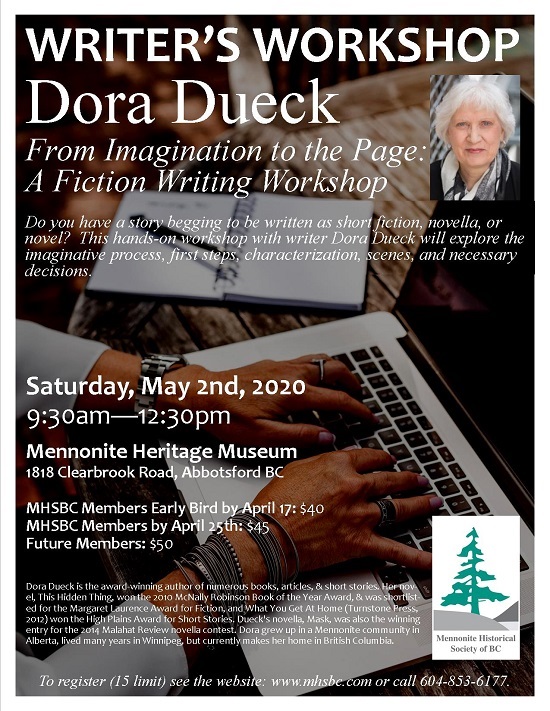 Dora Dueck (born 1950) is a Canadian writer. She is the author of three novels and a collection of short fiction. Her second novel, This Hidden Thing, was shortlisted for the Margaret Laurence Award for Fiction and won the McNally Robinson Book of the Year Award at the 2011 Manitoba Book Awards.

What You Get at Home, a collection of short stories, was shortlisted for the Margaret Laurence Award for Fiction and the Carol Shields Winnipeg Award at the 2013 Manitoba Book Awards. It won the High Plains Book Award for Short Stories. The Malahat Review, a Canadian literary magazine, awarded its 2014 Novella Prize to her story "Mask". All That Belongs, her third novel, was published in 2019. Her stories and articles have appeared in a variety of journals and on the CBC.