MHSBC Future Events
Important MHSBC Events planned for 2022
- - - - - - - - - - - - - - - - - - - - -
- - - - - - - - - - - - - - - - - - - - -
A Message from Aileen Friesen Co-director of the Centre for Transnational Mennonite Studies at The University of Winnipeg
After selling over 2,000 copies, CTMS has printed a second edition of Paul Toews's lectures exploring the history of Mennonites in Ukraine. In light of the current war in Ukraine, we have renamed the book The Mennonite Story in Ukraine: The Heritage Cruise Lectures, and I have added a new essay reflecting on the current situation. Renaming the book is an acknowledgement of how the war has caused a seismic shift in our understanding of this history, while simultaneously creating new challenges for its future.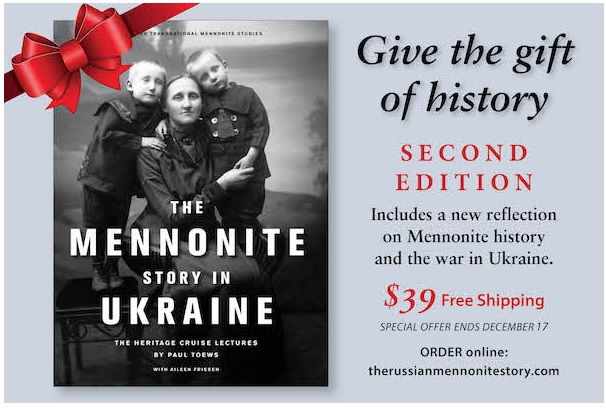 ORDER ONLINE: https://www.therussianmennonitestory.com/
- - - - - - - - - - - - - - - - - - - - -
The University of Winnipeg. Center for Transnational Mennonite Studies: Explore Events.

HIGHLIGHTING THE TRANSNATIONAL NATURE OF MENNONITE SOCIETY.

CTMS hosts a number of events featuring scholars from around the world. Annual events include the CTMS lecture and the Chair in Mennonite Studies's multi-day conference (typically held in the fall), as well as regular thematic events and roundtables. Click on the link to explore our upcoming and past events.



- - - - - - - - - - - - - - - - - - - - -