Purchase tickets for Pier 21 The Musical.

Saturday, February 12, 2022
Matinee 3:00pm: Evening 6:30pm
Matsqui Centenial Auditorium
32315 South Fraser Way
MHSBC Members Advance by January 21st: $20
Furture Members Advance by January 21st: $25
After January 21st: $30
Purchase tickets for Helen Rose Pauls Writers' Workshop..
Keeping Our Stories Alive.

Saturday, February 26, 2022, 9:30am—12:30pm
Mennonite Historical Society of BC
Located at: Mennonite Heritage Museum
1818 Clearbrook Road, Abbotsford BC
MHSBC Members Early Bird by February 11th: $40
MHSBC Members by February 18th: $45
Future Members by February 18th: $50

Countdown to Event: 23 Days Until February 12th, 2022
Countdown to Event: 37 Days Until February 26, 2022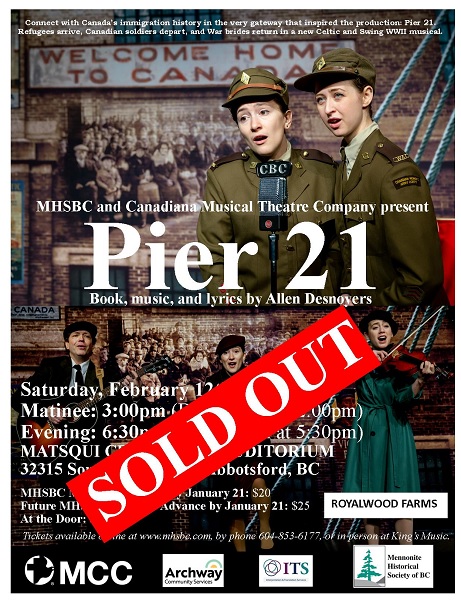 Refugees arrive, Canadian soldiers depart, and War brides return in a new Celtic and Swing WWII musical.

Connect with Canada's immigration history in the very gateway that inspired the production Pier 21: The Musical. Refugees and immigrants flee Europe as war breaks out in 1939. After half a million soldiers depart from Pier 21 to fight in the Second World War, War Brides and a new generation of immigrants arrive to take their first steps on Canadian soil through the Pier. Site-specific theatre at its best, this show is a Celtic and Swing flavoured musical packed with powerful vignettes and characters.

Did your family enter Canada through Pier 21? Share your story on one of our luggage tags which will be part of an exhibit at the Mennonite Heritage Museum.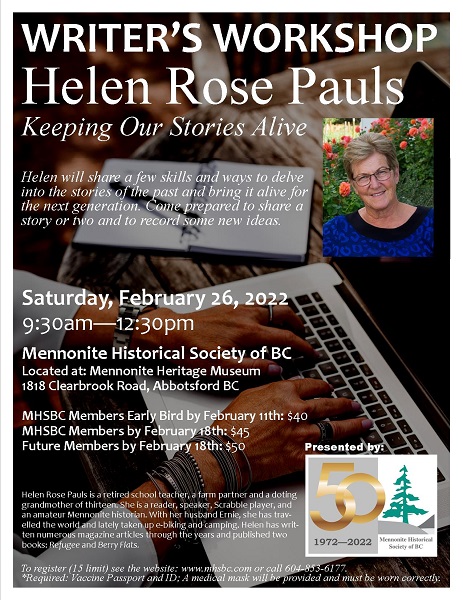 Helen will share a few skills and ways to delve into the stories of the past and bring it alive for the next generation. Come prepared to share a story or two and to record some new ideas.

Helen Rose Pauls is a retired school teacher, a farm partner and a doting grandmother of thirteen. She is a reader, speaker, scrabble player, and an amateur Mennonite historian. With her husband Ernie, she has travelled the world and lately taken up e-biking and camping. Helen has written numerous magazine articles through the years and published two books: Refugee and Berry Flats.