MHSBC Future Events
Important MHSBC Events planned for 2023
- - - - - - - - - - - - - - - - - - - - -
- - - - - - - - - - - - - - - - - - - - -
Messages from Aileen Friesen Co-director of the Centre for Transnational Mennonite Studies at The University of Winnipeg
I'm pleased to share that the documentary Conform: The Mennonite Migration to Mexico of the 1920s is now freely available for viewing on YouTube.

Produced by Refuge 31 Films and the Plett Foundation, Conform tells the story of the nearly 8,000 Mennonites who left Manitoba and Saskatchewan for northern Mexico in the 1920s, leaving their established farms and communities for life in a new country that offered rights and freedoms they considered critical to the exercise of their faith and their traditional way of life.

Written and directed by Andrew Wall, Conform won the prize for best documentary feature at the Winnipeg Real to Reel Film Festival earlier this year.
- - - - - - - - - - -
After selling over 2,000 copies, CTMS has printed a second edition of Paul Toews's lectures exploring the history of Mennonites in Ukraine. In light of the current war in Ukraine, we have renamed the book The Mennonite Story in Ukraine: The Heritage Cruise Lectures, and I have added a new essay reflecting on the current situation. Renaming the book is an acknowledgement of how the war has caused a seismic shift in our understanding of this history, while simultaneously creating new challenges for its future.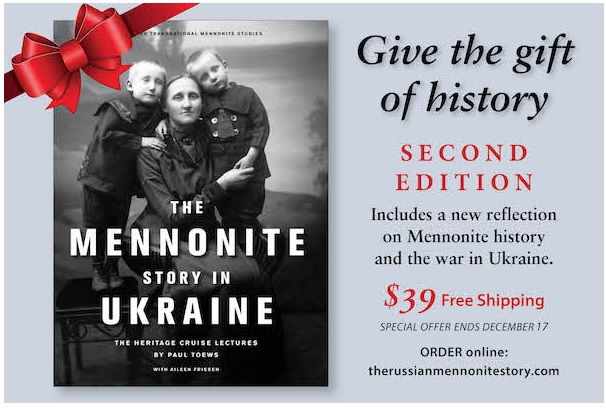 ORDER ONLINE: https://www.therussianmennonitestory.com/
- - - - - - - - - - - - - - - - - - - - -
The University of Winnipeg. Center for Transnational Mennonite Studies: Explore Events.

HIGHLIGHTING THE TRANSNATIONAL NATURE OF MENNONITE SOCIETY.

CTMS hosts a number of events featuring scholars from around the world. Annual events include the CTMS lecture and the Chair in Mennonite Studies's multi-day conference (typically held in the fall), as well as regular thematic events and roundtables. Click on the link to explore our upcoming and past events.



- - - - - - - - - - - - - - - - - - - - -