MHSBC is a community-funded organization, and we depend on your support. Your donation helps preserve our Mennonite stories and heritage for future generations. Funds are used to keep our archives open to public users; upgrade equipment; support our few staff members; bring you the latest research on Mennonite history through the Roots and Branches newsletter; and to sponsor special events. Tax-deductible receipts are provided.
We acknowledge that Abbotsford and its surrounding area are on the traditional territory
of the people of the Matsqui and Sumas Stó:lõ First Nations.
The Mennonite Heritage Museum and Mennonite Historical Society of BC will be closed until further notice. We encourage our staff, volunteers, and visitors to stay home and follow the advice of our government and health officials due to the COVID-19 pandemic.

Staff will reply to emails, and mail will still be received by both the Museum and MHSBC.


All events listed below are postponed. Pier 21 ticket holders please keep your tickets for a later date.
MHSBC Offices: 1818 Clearbrook Road, Abbotsford, B.C. V2T 5X4
At the Mennonite Heritage Museum

Phone: 604-853-6177; Fax: 604-853-6246; Email: MHSBC archives
Hours: 10:00 am - 4:00 pm, Monday - Friday (except statutory holidays)
See the MHM website at: www.mennonitemuseum.org.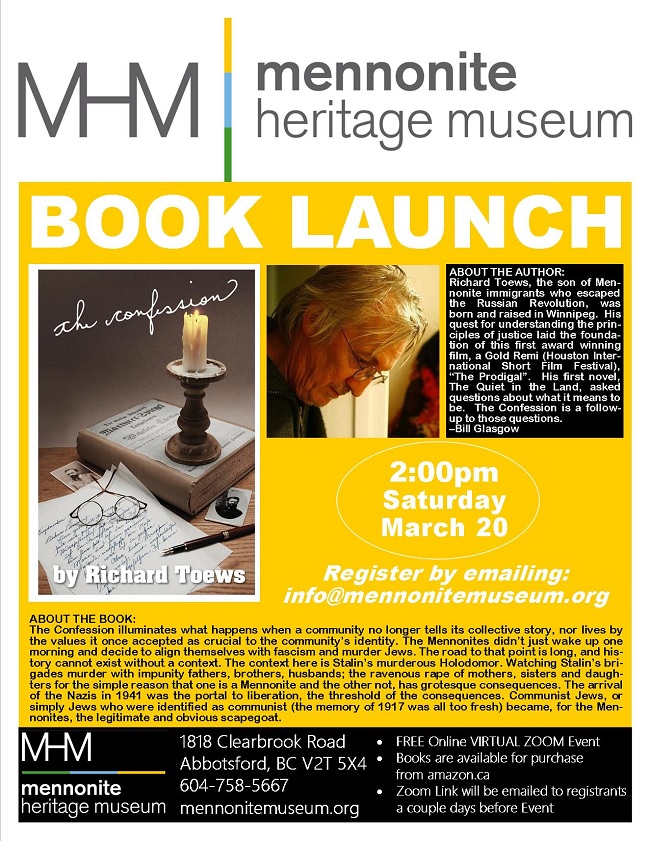 Volunteer at the Mennonite Heritage Museum Gardens!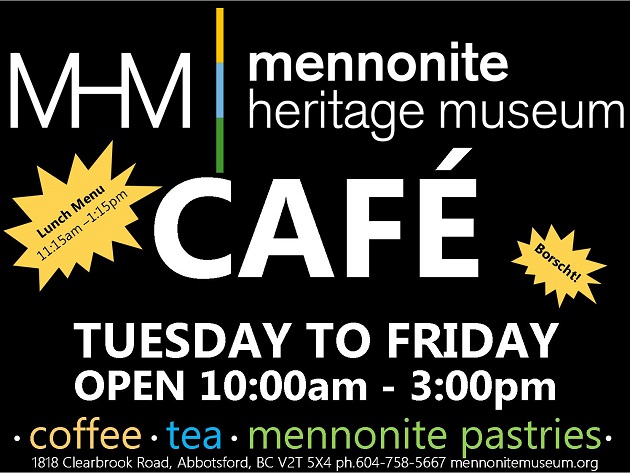 MHM Coffee Shop Website and Online Takeout Menu!
For Mennonite events across Canada see the Canadian Mennonite website.