MHSBC is a community-funded organization, and we depend on your support. Your donation helps preserve our Mennonite stories and heritage for future generations. Funds are used to keep our archives open to public users; upgrade equipment; support our few staff members; bring you the latest research on Mennonite history through the Roots and Branches newsletter; and to sponsor special events. Tax-deductible receipts are provided.

We acknowledge that Abbotsford and its surrounding area are on the traditional territory
of the people of the Matsqui and Sumas Stó:lõ First Nations.
MHSBC Offices: 1818 Clearbrook Road, Abbotsford, B.C. V2T 5X4
At the Mennonite Heritage Museum

Phone: 604-853-6177; Fax: 604-853-6246; Email: MHSBC archives
Hours: 10:00 am - 4:00 pm, Monday - Friday (except statutory holidays)
For Mennonite events across Canada see the Canadian Mennonite website.
"You are invited...

I'm so excited to be inviting you to the launch of my new children's novel, Dear Peter, Dear Ulla. Until last week, the event was scheduled for in-person at McNally Robinson Booksellers in Saskatoon. But for COVID reasons, it's been switched to virtual, which means that many more people can attend! See all details below. To register for the event, just click here:

Virtual Book Launch: Barbara Nickel

This will take you to the Eventbrite page with all of the details, including a book description. .... Happy September, Barbara"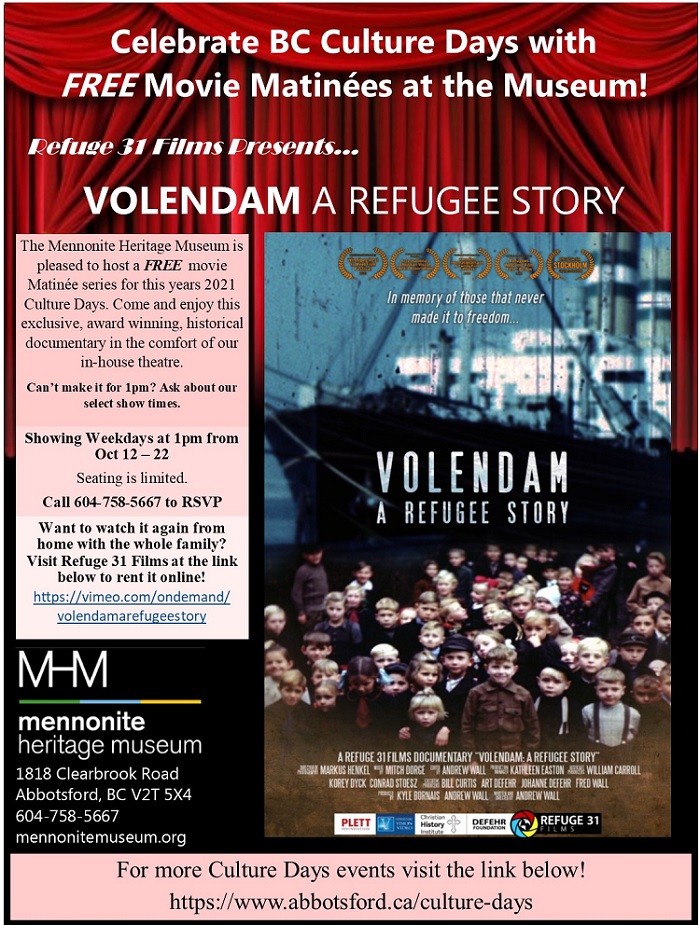 YouTube Link for for Dr. Richard Toews' recorded Virtual Book Launch, The Confession.
See the MHM website at: www.mennonitemuseum.org.
Volunteer at the Mennonite Heritage Museum Gardens!
- - - - - - - - - - - - - - - - - - - - -
How to become a member of the MHSBC?
| | |
| --- | --- |
| You can pay your $35.00 MHSBC membership fee online with our convenient PayPal feature: | You can pay a $750.00 MHSBC lifetime membership fee online with our convenient PayPal feature: |
PayPal provides the option of paying with your credit card or as a PayPal client. PayPal will email a receipt, your membership confirmation.
According to the Canada Revenue Agency, MHSBC membership fees are not tax deductible. Members receive Roots and Branches three or four times a year. Members enjoy a discount on the price of MHSBC events. The annual general meeting of the society is held in April or May.
Other ways to become a member:

Print the MHSBC Annual Membership Form, fill in your data, and mail to MHSBC.
- - - - - - - - - - - - - - - - - - - - -
- - - - - - - - - - - - - - - - - - - - -
| | |
| --- | --- |
| Upcoming MHSBC Event | Upcoming MHSBC Event |
| Purchase tickets for Pier 21 The Musical. | Purchase tickets of Dora Dueck's Writers' Workshop. |
| until February 12, 2022! | |
| | |
You can make your donation to MHSBC online with our convenient PayPal feature.

PayPal provides the option of paying with your credit card or as a PayPal client. PayPal will email a receipt, your donation confirmation.





Sponsor an MHSBC Event

If you, your group, or company is interested in sponsoring an MHSBC event, please contact us at MHSBC Archives, or 604-853-6177.

Sponsorship Details