Mennonite Historical Society
of British Columbia
MHSBC Offices: 1818 Clearbrook Road, Abbotsford, B.C.

At the Mennonite Heritage Museum
See the new MHM website at: www.mennonitemuseum.org.
MHSBC Fall Fundraising Dessert Banquet
"A small sign of life and love":
Letters out of the Soviet Union during the Khrushchev Thaw
Postponed until 3:00pm, Sunday, November 13, 2016

King Road MB Church
32068 King Rd, Abbotsford
Tickets: $10.00
MHSBC Offices: 1818 Clearbrook Road, Abbotsford, B.C.
Phone: 604-853-6177; email: archives@mhsbc.com

Buy tickets online using PayPal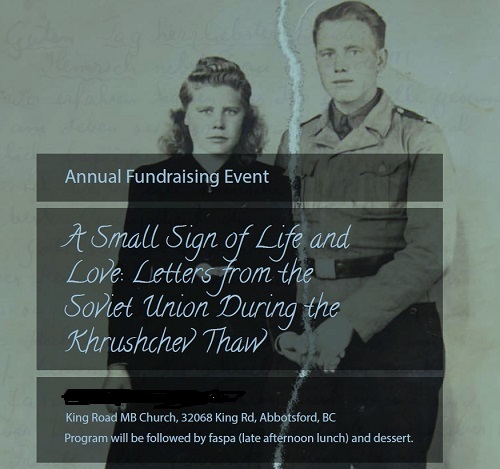 MHSBC Genealogy Workshop
Keynote Speakers: Dr. Tim Janzen & Dr. Glenn Penner
November 19, 2016, from 8:30am to 4:00pm

Mennonite Heritage Museum
Christmas Market Event: Mennonite Heritage Museum
November 21st to December 3rd, 2016
The Mennonite Historical Society of BC was formed in 1972 as a non-profit society to:


| | |
| --- | --- |
| | collect and preserve valuable historical records |
| | foster awareness of Mennonite history and culture |
| | fund research projects related to Mennonite history |
| | sponsor programs and events which communicate our history and culture |
| | assist in publishing writings and books related to the above |
Pay for your MHSBC membership using our convenient PayPal feature.

Become a MHSBC member, volunteer, donate to MHSBC online: MHSBC Membership Form.
Address:
Mennonite Historical Society of BC
1818 Clearbrook Road
Abbotsford BC V2T 5X4
Phone:
604-853-6177
Fax:
604-853-6246
Email:
General Inquiries: MHSBC Archives
Genealogy: MHSBC Genealogy
Hours:
10:00 am - 4:00 pm, Monday - Friday
(except statutory holidays)
See the Future Events for ALL new events.
Like us on Facebook

Post a comment on MHSBC's activities,
or a comment and photograph relating to Mennonite History.
MHSBC is dependant on donations to support its operations. Tax-deductible receipts are provided.
Mennonite Historical Society of BC, c2001 All Rights Reserved

Comments regarding the web site can be directed to Webmaster